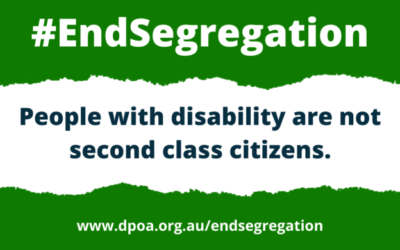 People with disability and our rights and advocacy organisations are fighting to end the segregation of people with disability in Australian education, housing and workplaces.
We urge the Royal Commission into Violence, Abuse, Neglect and Exploitation of People with Disability (Disability Royal Commission) to recognise that segregation of people with disabilities is discrimination and a breach of our human rights under the UN Convention on the Rights of Persons with Disabilities (which Australia has signed).
If you would like to join the growing number of disability advocacy organisations and individuals who have publicly endorsed this paper, visit the DPOA website.  You can also show your support for this human rights position by using the hashtag #EndSegregation on social media.  
Source: DANA